Treacle's Home Page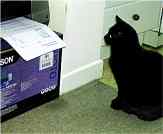 Treacle is 9 years old.
Her favourite food is Iams.
Treacle's favourite toys. Treacle likes especially those toys which move by themselves. Once we got her a remote controlled mouse. I am not sure who had more fun - we humans or her. But Treacle would join, in happily studying the mouse intently and from time to time chasing it across the room. However, by far Treacle's favourite toy is our printer. As soon as the printer is on she will sit in front of it, mesmerised.
Where Treacle is from. Treacle arrived in our home when she was 4 years old. It was no doubt a traumatic period of her life. Her previous people emigrated to Canada and for a brief time she ended up in a RSPCA shelter. A week later strange and frightening creatures (that's us) arrived to take her away. And it was not a short journey either. A two hundred mile journey, which involved trains, buses and taxis definitely did not meet with her approval. When we finally arrived home she decided that the safest place is definitely under the sofa, where she remained for almost a week with brief trips to her litter tray, food and well just a quick look around when no one was watching.
About Treacle. She has been with us for just over a year and is now fully settled. After few initial skirmishes with cats in the neighbourhood, she has become the definite Queen of the garden. She is still very shy of strangers but as long as they leave her alone she gets on with them just fine. Treacle is not a 'lap cat' and will probably never be. In that respect she is definitely 'The cat that walks by herself'. But she is also an extremely gentle cat, who never refuses a nice stroke or being fussed over by us.

There were a number of changes in Treacle's life since her arrival in Cambridge. Since then, she and her people spend 2 years in Austria and now they settled in Canada. Treacle has been a great traveller taking to planes with a stride. She settled quickly and comfortably in her new homes.
Last updated: 2018-06-01