Ruckus's Home Page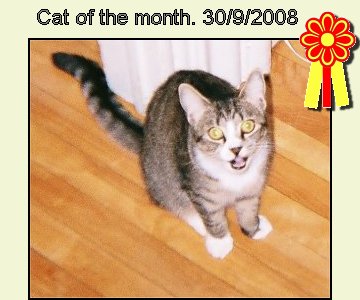 Ruckus is 0.75 years old.
Her favourite food is Whiskas.
Ruckus's favourite toys. She has a few. Her fluffy ball. Her mouse, both on elastic-strings. Her soccer balls (not world cup).
Where Ruckus is from. She was given to me from a friend.
About Ruckus. She is outgoing, and friendly. She is an indoor cat. She is a tabby, and when she arrived, my friends wanted to know her name. I was thinking of purchasing a Honda scooter, and that being an active kitten, she would cause a "localized, general disturbance" or Ruckus.
She is curious, about the world and loves to look out at the cars, and people. She likes to greet me when I come home from work. She sometimes insists that I take time to play, and we have a great time. She likes to enjoy the spring breezes, and curl up by the window.
Sometimes she'll "follow the mouse" when I use the computer, and chases it.

On Friday April 18, 2008 she was hit by a car and passed away. She was my best friend, and will never be forgotten.

Last updated: 2008-04-20