Molly's Home Page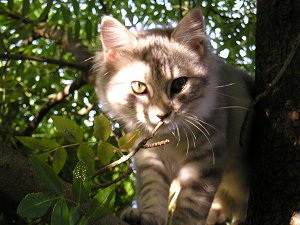 Molly is 4 years old.
Her favourite food is Whiskas.
Molly's favourite toys. She loves feathers and squeaky mice.
Where Molly is from. Our friends cat had kittens and there was one left over from the litter that wasn't sold, so I got her!
About Molly. Molly normaly sleeps, either in the dirt, on a chair outside or just in a sunny spot. She is a very outdoor cat and she only likes coming inside in the mornings. She also always fights with our other cat, Paris.
Last updated: 2008-02-10