Phebe's Home Page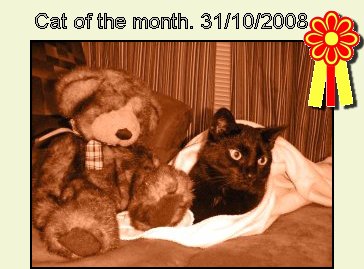 Phebe is 2 years old.
Her favourite food is Purina.
Phebe's favourite toys. Phebe has a whole basket of toys. Her fav. is her little pink mouse. At night she will bring it to me in bed and i will throw it and she will keep bringing it back to me to throw it again. She is very playful.
Her favorite food is purina cat chow natural. That is what she eats but some how the question above always changes to 'brekkies'..but that is incorrect. It changed to that for some reason?


Where Phebe is from. Phebe was a stray kitten looking for a new home and she found me. She was a small kitten living outside in the rain. She now has all her shots is spayed and in a great home. She has two "sisters" Piper,who was also a stray kitten, and a 1 year old black and white dsh and Darby a 7 year old collie/chow mix, rescued from a shelter, who doesn't like cats. It took about 3 weeks to get her use to phebe and about a week for piper. It was very tense times around here but now they all three are very happy and are very loved.
About Phebe. She is different from any other cat I've seen. I have had people tell me that they think she is burmese or at least half burmese. She loves water. She is always on the bathtub when anyone is taking a shower. She is always on or some times even in the sink when Im fixing my hair. Where I am there she is..she is my shadow. you can throw her toys and she will bring them back to you. she is very energetic!
First thing in the morning she jumps around on the bed. She then runs to the kitchen and demands her food and fresh water. She walks around the house until she finds something to get into. After a few hours of running and climbing the walls she takes a cat nap wrapped so warm and cozy in her favorite blankie. She then awakes and starts again.When bedtime comes its hard to say you can't love her. Her little wet nose against my face I hold her with a warm imbrace. Her sweet little soft purrs makes me lover her even more. Phebe "the lil' charmed one" is the sweetest thing ever!
Jen's favourite poem:
Cat Kisses

Sandpaper kisses
on a cheek or a chin
that is the way
for a day to begin

Sandpaper kisses
a cuddle and a purr
I have an alarm clock
that's covered in fur!




A Cat's Prayer

Now I lay me down to sleep,
The king-size bed is soft and deep...
I sleep right in the center groove
My human can hardly move!

I've trapped her legs, she's tucked in tight
And here is where I pass the night
No one disturbs me or dares intrude
Till morning comes and "I want food!"

I sneak up slowly to begin
My nibbles on my human's chin.
She wakes up quickly, I have sharp teeth -
And my claws I will unsheath

For the morning's here and it's time to play
I always seem to get my way.
So thank you Lord for giving me
This human person that I see.

The one who hugs me and holds me tight
And sacrifices her bed at night.






Last updated: 2008-10-02