Opie's Home Page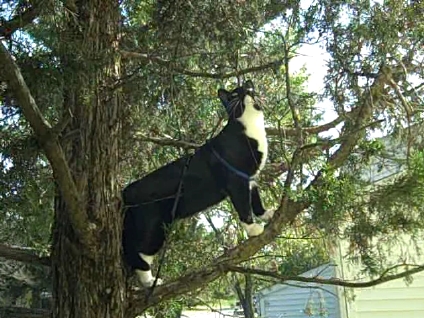 Opie is 1 year old.
Her favourite food is Brekkies.
Opie's favourite toys. Mouse on a fishing pole, the ball that goes in a circle and stays in the unit.
Loves to go in paper sacks!
Where Opie is from. Opie walked into my life at work one day....He came out of Overland Park and I named him O.P...spelled Opie
About Opie. Opie loves people. He has dog friends and is an aggressive socialite. He loves to play in the morning and before bed. Opie loves riding in the car. He is also fun on a harness and leash, loves going outside. Stroller rides are another hi-lite of his life. Opie loves adventure...he also loves sitting on the shelf at the window! Opie loves playing and wrestling with his new brother "Jr."....they tear thru the house on a regular basis...Opie has learned to climb trees...he still gets up there even when on harness and leash....very adventurous boy!
Nancy's favourite poem:
"Opie where are you?"
Opieeeeee where are youuuuu.
Where's my Baby Opie?
Where arreeeee youuuuuuu?
Last updated: 2008-11-12