Boots's Home Page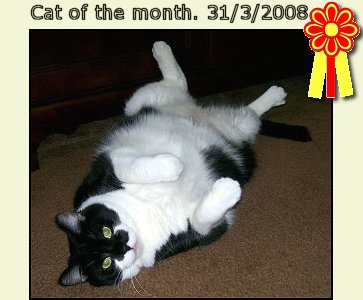 Boots is 2 years old.
Her favourite food is Brekkies.
Boots's favourite toys. Mouse on a pole, dangly toys, little balls.
Where Boots is from. Boots was an extra cat of many at work. I brought her home.
About Boots. Boots loves relaxing and enjoying life. Staying at Grama's right now. Loves to try and sneak up on the dining table. But as soon as Grama sees....I have to run and jump. Temporarily putting up with Max, Grama's dog. He barks at me when I get up on endtables. One of my favorite places to be is on Grama's desk chair.

Oh by the way, the cool cat in the stroller next to me is "Opie". He's my cousin. He lives in another state, and in May we finally get to meet! I can't wait to go for a ride in the stroller with him...Meowwwwwwwww and Meowwwwww
Susie's favourite poem:
Love is in the air!
Soon and very soon
Me and Opie strolling
down Pinecrest lane....
fun, adventure, and a bit of trouble
coming my way....Meooooowwwww
Oh...how I patiently wait for my love
to arrive....Opie...Opie...where are You?
Last updated: 2008-03-13