Lucy's Home Page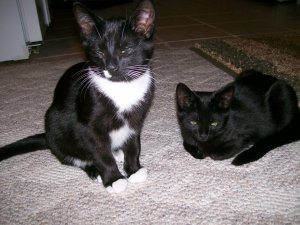 Lucy is 8 months years old.
Her favourite food is Whiskas.
Lucy's favourite toys. each other, Papa Mike, laser pointer
Where Lucy is from. Lucy and Scooter were born outside by the boat shed on the river. We rescued both kittens and momma
About Lucy. Lucy and Scooter are adorable. They were found as new borns. I had been feeding Momma cat and knew she was pregnant. Once her babies were born she lead me to them and of course had to rescue them. Look at their faces. How can you refuse. Scooter lives up to his name...boy, can he scoot!!! Lucy (although we found out he is a boy..I guess it's really Lou)is loveable. There cousins Boots and Opie are on the web too. Soon Opie will be coming to town and we will have one wild cat party!! (under much supervison! Lucy and Scooter are 2 of 4 cats in the house. Sometimes we are quite a handful. Fun is our game. Lots of places to hide and run. Love sleeping with Ma Becky and Pa Mike....
Last updated: 2008-03-13