Kikiboo's Home Page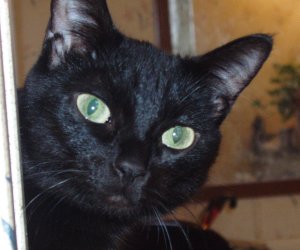 Kikiboo is 8 years old.
Her favourite food is Supermarket own brand.
Kikiboo's favourite toys. Kikiboo loves to play with rubberbands of all types.
Where Kikiboo is from. Kikiboo came from a litter of six that were found motherless under a mobile home. The kittens were about 4 weeks old and had to be hand fed. We found homes for all of the kittens except Kikiboo. We had to have her.
About Kikiboo. Kikiboo is a sleek all black female cat with no tail. She is an indoor cat and has no desire to go outside. She is spoiled and pampered and likes to have her way.
Last updated: 2008-03-28