Socks's Home Page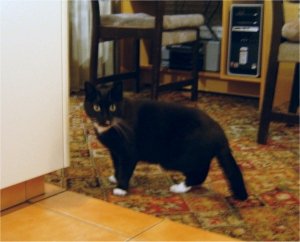 Socks is 5 years old.
Her favourite food is Supermarket own brand.
Socks's favourite toys. Doesn't have toys
Where Socks is from. A friend
About Socks. she is a friendly cat and meows for attention all the time.she is a very smoochy cat and likes to be inside and outside.she is very protective of her daughter Bella and gets into fights quite a lot.Her favourite places are on the bed, in the sunroom and sometimes under a shady tree.
Last updated: 2008-04-23