Junior's Home Page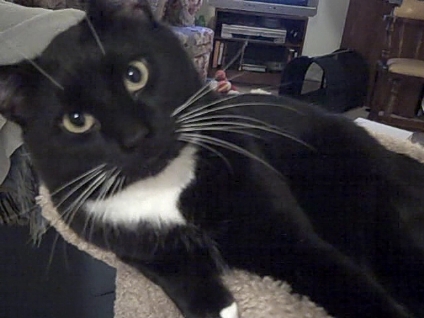 Junior is 1 year old.
Her favourite food is Brekkies.
Junior's favourite toys. Opie my first cat....interactive toys with me. Mouse on a fishing pole.
Where Junior is from. I found Junior at a shelter. He is a stray. And I adopted him.
About Junior. Junior is a new member to the family. They love to chase each other. Junior is much smaller than Opie, but he definitely holds his own. He is very aggressive and chases right after Opie. They are best friends. They look like twins and the red collar Junior has helps me figure out which one they are. Junior has no interest in going outside. He runs the opposite way when I open the door. Opie loves going outside. Junior is 9 lbs and Opie is 14 lbs.
Jr. and Opie now spend time on top of the frig.
Last updated: 2008-11-12