Lucy's Home Page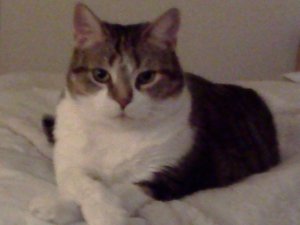 Lucy is 5 years old.
Her favourite food is Purina.
Lucy's favourite toys. Where do I begin? Lucy loves her Ellie the elephant, birdie the bird & mousie the mouse & many, many more.
Where Lucy is from. I adopted Lucy, actually Lucy adopted me, at the MSPCA in Methuen, MA. A woman had found Lucy in an abandoned car with her 2 kittens. Lucy's kittens were already adopted when I adopted Lucy, otherwise I would've adopted her 2 kittens also.
About Lucy. Lucy is so loveable, she greets me at the door every day when I come home & I pick her up and give her lots of kisses & hugs. Lucy's favorite cozy spot to sleep, is in my bedroom closet, on a fluffy comforter, in the corner. She also loves to lay on my lap. I just can't say enough on how much I love her unconditionally, she always puts a smile on my face, even when I'm having a bad day. I call her, Goosey Goosey, Lucy Goosey, Goose Goose, Lou Lou & Luce
Last updated: 2014-08-22