FiiFii's Home Page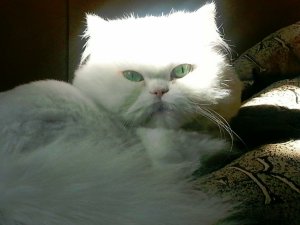 FiiFii is 16 years old.
Her favourite food is home cooked.
FiiFii's favourite toys. A gift that was given to her from my safety manager .... ball spinner and butterfly centerpiece
Where FiiFii is from. Adopted in Lake Charles, Louisiana
About FiiFii. FiiFii is a beautiful doll-faced Persian, and she has a character front of a pittbull and a grizzly bear to all those who have dared to come toward her, lol. Shes has been not only a heaven sent gift of creature, but my only child, my best friend, an unconditional love through tears, loneliness, brokenness and happiness. she is everything beautiful to me and she is all and more than part of my heart.
Last updated: 2015-08-29