RustyBoy's Home Page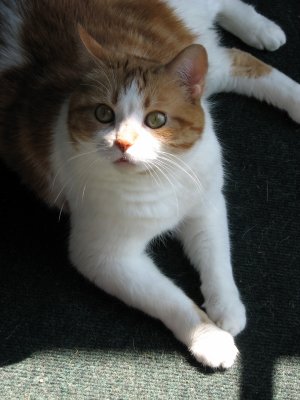 RustyBoy is 10 years old.
His favourite food is Gourmet.
RustyBoy's favourite toys. Probably me! He likes to get my attention all the time. He loves catnip sprayed toys.
Where RustyBoy is from. My Brother found him in cemetery sitting in some bushes. He was skin/bones (has no frontal claws) to help himself. He came for weekend stay and stayed with me forever!
About RustyBoy. I think he was always an indoor cat because he seems use to it all - he loves going out on our balcony and watch the birds and squirrels, geese, etc. He is one of the long-sleeper's. He is loving and loves people, a flirt with the Vet's nurses they just love him. He head-butts me and knows a variety of words like "lay down" and din din! He wakes me anywhere between 4:40 and 5 AM and puts his paw on my nose or face. He can be vocal if I am not paying attention. Big Baby!!!
Last updated: 2016-01-11