Bissy's Home Page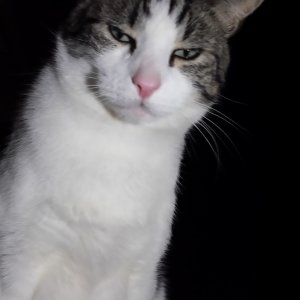 Bissy is 5 years old.
His favourite food is Brekkies.
Bissy's favourite toys. Live animals
Balls
Feather

Where Bissy is from. Under a tyre of car
About Bissy. Bissy cat goes for 2 walks per night with my hubby. Bissy and sammy are well known in neighbourhood. When he comes ho.e bissy wants to eat his prawns or kangaroo meat maybe so.e whiskas loaf olive oil (not in one go). Then he wants to play with me and will meow and stare until he gets who he wants . We play in bedroom and bissy will claw the whole side of bed and go psycho kitty especially after eating hes very happy. Bissy is dedicated to catching rats in our park.
Last updated: 2017-04-26