Ninja's Home Page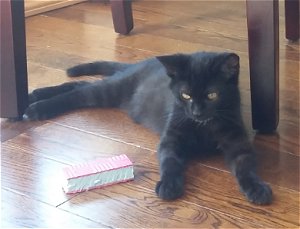 Ninja is 1 year old.
Her favourite food is Hills Science.
Ninja's favourite toys. He will play with almost anything but his recent favorite is a laser.
Where Ninja is from. Ninja came to as from SPCA as a kitten.
About Ninja. Ninja is an indoor/outdoor cat. He and his big sister Tyche spend a lot of time in the garden during the summer. In winter he prefers to seat next to the fireplace.
Last updated: 2018-06-01