Cat cafe - would you like a tabby with that?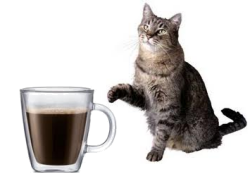 It is often difficult these days to combine a busy lifestyle with keeping a pet. This is particularly true in countries like Japan, where people in big cities mostly live in apartments where keeping a pet is often forbidden. However, even petless people are coming to recognise the advantages that pets such as cats can bring to our lives. Psychological studies have shown that interacting with a pet lowers stress, helps autistic children, provides company to older people and even benefits patients who suffer from heart disease.
| | |
| --- | --- |
| | So if some people can't have cats at home, why not have them in a public place where people who want to can play with and pet them? Why not indeed? Once the question was asked in this way, the answer was quickly developed into the concept cat cafe. The world's first cat cafe opened in 1998. It was located in the densely populated city of Taipei, Taiwan. The cafe was a hit with the public and the idea quickly spread to Japan where the first Japanese cat cafe opened in Osaka in 2004. Tokyo followed soon after with its first coffee shop 'Cat Store' in 2005. |
There are now almost 40 cat cafes in Tokyo and they are very popular. Many of those cafes have customers who make a detour on their way from work to visit their favourite coffee shop and say hello to their favourite cats. These places also attract a lot of tourists.
In early days cat cafes like Calico in Tokyo, which open in 2007, were an oddity mostly frequented by older women and animal fanciers. Today, to secure a table during busy times patrons need to book in advance. Calico has fourteen resident cats of different breeds and colours but the place is clean and odorless. To keep the place completely hygenic all customers also have to sanitize their hands before they interact with the cats.
Japanese cat cafes cater for all different 'cat likes' of their customers, from rare breeds to formerly stray cats. But with Japanese efficiency, all these places have proper licenses and comply with the strict requirements and regulations of the Animal Treatment and Protection Laws.
The idea of cat cafes is now spreading westward to Europe. Early in 2012 Cafe Neko opened its door to customers in the center of Vienna, Austria.The owner of the coffee shop, Takako Ishimitsu has lived in Vienna for 20 years. She has always been an active supporter of the Vienna animal shelter, so it was a great relief that after three years of negotiations with city officials over hygiene issues, the cafe was finally allowed to open. Now Cafe Neko provides a home to some rescue cats and company to busy Viennese commuters.
In fact Cafe Neko was an instant hit with both locals and tourists. In the words of Ishimitsu: "Surprisingly, more than 99 per cent the reactions are positive. One of our goals is to provide some happiness to people who cannot have cats on their own, because of their jobs or family members suffering from allergies."
Time will show if the popularity of cat cafes will spread as quickly in Europe as it has in Asia, and whether a cat cafe will one day open in a neighbourhood near you!