Adopting a rescue cat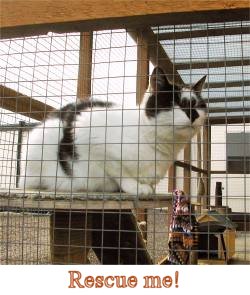 There are many reasons why a cat might end up at a rescue shelter. Worst-case scenarios include cats that have been abandoned and left to become feral, or cats which were treated cruelly until rescued by the authorities. But there are other circumstances such as when the cat's owners have emigrated and been unable or unwilling to take the cat with them; or the owner might have died leaving no-one to look after the cat. At other times, the owners might have wanted to keep the cat, but could not, for example because the cat was adopted into a household where there were already animals and assimilation proved impossible. Or the owner might have developed a strong allergy to the cat - or might simply have been unable to cope with some aspect of its behaviour. But whatever the reason, the cat has been separated from her family and her home territory. This is a traumatic experience which may well have shattered its self-confidence. It is therefore important that it should end with the cat finding a loving, stable home.
There are hundreds of cats in rescue centres, all needing good homes. Most rescue cats become great pets and deserve a second chance. With so many to choose from, there is certainly a cat which suits your life style and character, waiting for you to come and find her.
In the UK any cat brought to a rescue centre is given a medical examination. If this has not happened before, the cat is neutered and an identifying microchip is put under its skin. Only then is it put up for adoption. In this way, anyone who is thinking of adopting will have some idea of the health of their new pet, and will have already been saved a few trips to the vet; especially as some of the necessary vaccinations (for instance for flu) may have been done as well. Remember too, that most shelters will want to recover some of the costs for this treatment from you when you adopt.
Before adopting a cat, ask yourself whether you can provide a good home for her. (Be sure any reputable rescue centre will ask you anyway, so this might save everyone's time!) One very important consideration is whether your home is suitable. If you are in rented accommodation check your tenancy agreement carefully. Some tenancy agreements state clearly that pets are not allowed. It may also be that pets are not allowed prior to the landlord's consent. Don't just get a cat and hope that everything will work out - apart from anything else, this is not fair to the cat.
If you live in a flat with no access to a garden, look for a cat which was an indoor cat in her previous home. Although most cats which have always lived indoors are quite happy with this arrangement, cats which previously had free access to the outdoors may find it very stressful, perhaps impossible to adapt to an exclusively indoor life. The staff in the rescue centre will be able to advise you. Make sure you find out as much as possible about the cat you are adopting. Don't make a rushed decision. Most rescue centres are happy to reserve the cat for you and you can visit her a couple of times before taking her home. The great thing about adopting cats from rescue centers is that most have professional and knowledgeable staff to advise and help with your choice. The staff might also want to do follow-up checks after the adoption to make sure that you and the cat are settling in well together.
Before bringing your cat home, make sure you have all the necessary items, e.g. cat litter, food bowls, bedding etc. You can find all the necessary information about what to stock up with in our article "Bringing your cat home - the first few days". Remember that cats arriving in a new home are normally very shy and intimidated; so be patient. Put them first in a single room till they feel comfortable and ready to explore. If she tries hiding under the sofa let her be, she will come out in her own time. Try to spend as much time as possible with her and talk to her gently.
Some cats are very sociable and will come to you for a cuddle in no time, others will take longer. But the important thing is to let them make the first contact on their own terms.
Cruel as it may be, many cats end up in cat shelters because they have medical problems; they may be deaf, blind, FIV+ etc and the previous owners did not want, or could not afford, to pay for the medical treatment. Many people dismiss these cats as potential candidates for adoption because they are terrified of the huge vet's bills which will follow. But some rescue centres are often prepared to help with vet's bills even after the animals been re-homed. So if you can give a home to a cat with medical problems and your only concern is the expense, talk to the staff at the rescue centre because they will be happy to help if they can.
Adopting a cat is a responsibility which you may not want to undertake if your circumstances are uncertain, or about to change, but you are a cat lover and you would like to help. So you might consider fostering a cat. Many centres need foster homes for cats - especially during the late spring and summer when they can end up with lots of unwanted kittens. As a fosterer you will provide a temporary home for a cat or kitten till they can be permanently re-homed. One of the difficulties with fostering is that you might get too attached to cats in your care and face the emotional stress of parting each time. If you can cope with that, and you have a home environment suitable for fostering, why not give it a go? It is worth knowing that all the bills and associated expenses are generally covered by the rescue centres, so you will be doing a lot of good at little or no cost to yourself. To find out more about fostering contact your local rescue centre.