First Aid - heat stroke, hypothermia, frostbites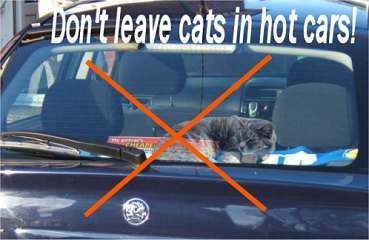 Cats are generally good at coping with changes in climate, and in countries like Britian feral cats survive outdoors all year round. But not all cats are as savvy as these street-wise creatures, and it is quite possible for your cat to get too hot or too cold. Here's what to do if this happens.
Heat stroke
Heat stroke is caused by body temperature rising so high that the the body's internal organs begin to shut down. It is a serious medical condition which requires immediate medical care.
Heat stroke is not that common with cats but it can happen on hot days, for example if a black cat spends all day sleeping directly in the summer sun, or if the cat is trapped in a heated place, such as a green house. A cat suffering from heat stroke will be weak, panting, dribbling saliva and very distressed. Get the cat into a cool area and wet her fur with cool water. Do not use cold water. That may constrict the blood vessels which carry heat out from the body and actually slow down the cooling process. Keep wetting the cat's coat for up to 1 hour. If she is unconscious carry out AR or CPR. If the cat is conscious you can give her some water to drink - though note that heatstroke also causes nausea, and your cat might not feel like drinking even though very dehydrated. Do not force water into the cat, as this will further upset a very agitated beast, but instead try to dribble a few drops into the corners of the mouth at frequent intervals.
Sunburn
Yes, cats can get sunburned. And like humans, cats are not always clever enough to get out of the sun until it is too late. Almost all cats can get burned on the tips of the ears and on the nose if they stay in the sun too long, but white cats are particularly vulnerable. Sphinx cats, which have no fur, are naturally at risk, as are breeds with thin pelts, such as Cornish Rexes. You may note sensitivity, for example if your cat hisses at you when stroked, and reddening of the skin under the fur. There might even be some blistering. Sunburn is not just a temporary annoyance. Cats which get sunburn might in some cases go on to develop a carcinoma, a type of cancer which develops with damaged skin cells. This is a case where prevention is much better than cure. Keep your cat out of the sun on hot days, and if they must go out, your vet can recommend sun block cream that is not harmful, even if the cat swallows some in trying to lick it off.
Hypothermia
Hypothermia is the abnormal lowering of body temperature. Cats which are allowed outdoors in winter in temperatures below 0oc can become hypothermic. Hypothermia can be very dangerous to a cat. In very serious cases cats become unconscious or even die. Apart from the obvious (low body temperature) weakness and shivering are the usual signs of hypothermia. (Though is the cat is very serverely hypothermic, the body might have stopped shivering in a desperate attempt to keep the last dregs of energy). The cat may be confused, or comatose. Frostbite is also common in such cases.
Warm the cat with an electric blanket or electric cushion if you have one. Otherwise put it close to the radiators or use a water bottle wrapped in cloth or even a hair dryer at a low heat setting. Moderate warmth is vastly preferable to extreme heat, as the body core temperature will take time to rise, and the last thing a hypothermic cat's metabolism needs is to have to balance extreme heat on the body surface with dangerously low core temperatures. Dramatic measures such as giving the cat brandy or placing it in an oven are more likely to do harm than good. Once the cat's temperature has returned to normal, stop warming her since overheating may also be dangerous. However make sure that the cat remains in a warm (but not hot) environment. Call the vet.
Frostbites
Frostbite is the freezing of skin and damage to underlying blood vessels upon exposure to extreme cold. Blood flow halts in frostbitten skin, and the area must be thawed and rewarmed swiftly to prevent tissue death (gangrene) and infection.
It is a myth that cats are protected from cold. Although thick hair does provide protection, there are a number of vulnerable places such as the tips of the ears, footpads, the tip of the tail and nose,which can easily get frostbitten.
Shivering, ice on the limbs and changes in skin colour (red skin) are the typical signs of frostbite. Heat a towel or tissue and apply to the affected area. You can soak the cloth in warm water so that it will be warm for longer. Once the affected area has warmed up, dry it but not rub or massage it. This will just cause itching and additional discomfort.
If skin, which is normally pink appears to be very dark, take your cat to the vet asap because there may be damage to the blood vessels and deeper tissue. It is much harder to see frostbite on black cats because the skin is already dark, so look for damaged skin or blistering if the cat has been exposed to the low temperatures for a long time.
---
Note: This information is for guidance only. It is not intended to replace consultation with a licensed practitioner.