Can you have too many cats?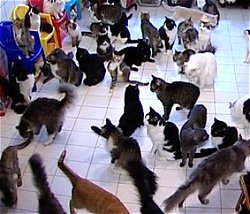 The short answer is definitely 'yes'. And we are not talking only of those reports you see occasionally in the newspaper about some eccentric who has filled his one-bedroom bedsit with 300 feline chums. The number of cats in a household does not need to be particularly high before chaos takes hold. You'll probably have heard someone asking 'Why is it my neighbour has 5 cats and they all get along, while my three continually fight?'.
Many people find that acquiring cats becomes almost a habit. There's a slippery slope that begins when you find a stray cat or kitten and take it home to join the cats you have- and then you take in another, and another, and another because by then what does one more cat matter? But crowding too many cats into one small space is very unfair to the cats - and to their human carer. It is much kinder in the long run to take a stray cat to a cat sanctuary and let the professionals find her a new home. But what about a three-cat household? That's not too many, is it? And if not, how many is too many?
If you read our earlier article on cat hierarchies (here), you will understand that cats need personal space. How cats in the same household get along depends on many factors, which include how theothersmore.
So striking a balance in a multicat family is not easy and it is up to you to continuously watch your cats to spot early signs of disturbance. for example, many people are aware that problems can develop when a cat reaches sexual maturity. Often, once the cat has been neutered, the problems go away, at least for a while. What many people don't know is that there is a second stage in a cat's life when the cat stops being a teen and becomes a fully grown adult (ie reaches social maturity). This happens when the cat is aged between 2 and 4 years. At this time the cat will start looking for a new place in the domestic cat hierarchy. If feeling strong and bold enough the cat may even try for the top spot. The current top cat may not take kindly to the challenge, and fur will fly.
There are some cats which are happiest being on their own, and simply will not fit amicably into a multicat household. So if considering the adoption of a new cat into a multicat household, get as much information about the prospective adoptee as you can. Find out if the cat comes from a single cat home or shared her previous home with other cats. Remember that a cat from a multi-cat household might have hated the other cats, or alternatively might be lonely if taken into a single-cat home. Cats have individual characters, just as humans do, and its your job to make sure that you get a compatible cat.
Finally, remember that whether you have one cat, two or three, unless you have an enormously big house, the territory has already been filled. So the new member of the household will have to fit in by sharing someone's else territory. It is therefore a very good idea to extend the territory by adding additional cat tree, an additional litter tray and definitely additional food bowls. It is also important to remember that if one member of your multicat household has passed away, that does not automatically create a vacancy for a new member. Feline social heirarchies are delicate, and loss of one member means that there will be considerable disruption while a new hierarchy is established. A period of extreme tension amounting to a cold war - if not a clawing-and-spitting-and-trips-to-the-vet actual war - is not the time to drop a new cat into the mix.
So there is an answer to the question of whether you can have too many cats - and the cats in your household will tell you what it is.