Cats that are better qualified than you are.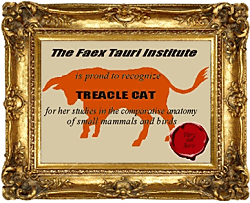 Anyone who has ever sat down to eat a steak dinner with a cat watching will know that those huge feline eyes have hypnotic powers. Well, now it's official. At least it is in the case of George Cat, registered hypnotherapist in Cumbria. The formidable professional qualifications of George Cat CAMT, BBNLP, UFH, PHPA were obtained on his behalf by his human, journalist Chris Jackson who wanted to test how easily such qualifications were obtained.
The first of these qualifications - from the Society of Certified Advanced Mind Therapists - was easiest to obtain, as Mr Jackson simply invented the organization. From there it was simplicity itself to use this invented membership to obtain access to the other three professional organizations. These are in full: the British Board of Neuro Linguistic Programming, the United Fellowship of Hypnotherapists, and the Professional Hypnotherapy Practitioner Association.
On the Inside Out programme which Mr Jackson presents for the BBC, the three associations were challenged as to how George's membership had come about. The PHPA insisted it makes an effort to check the qualifications of its members, whilst the BBNLP said that it neither checked nor certifies its membership. The UFH simply held up its hands and admittec a mistake, and said they were taking steps to prevent its recurrence.
However, George is not alone in being a highly-qualified cat. There was a minor scandal a few years ago when it was discovered that a researcher had listed her cat as one of the writers of a scientific paper which appeared in a well-regarded magazine. Perhaps the outcry was because the cat lacked a degree. Yet as Colby Nolan proved, getting one of these is a relatively trivial matter even for a housecat. Colby Nolan (MBA) obtained his degree in business administration from Trinity Southern University in the USA through his 'job experience' at a community college, a newspaper round and at a fast food joint. As well as these made-up qualifications the cat had babysat on occasion (presumably under supervision), so maybe it was this which persuaded the 'examiners' at the 'university' to award the cat a 3.5 grade average.
Colby joins fellow academic Oreo Collins, a cat which received a dilploma from Jefferson High school in 2009 despite being named after a sweet biscuit popular in the States. The biscuit reference would have been picked up immediately, of course, if the diploma had been examined by a registered nutritionalist such as Henrietta Goldacre, who allegedly got her diploma from the American Association of Nutritional Consultants. Or maybe not, as Henrietta was both another feline, and also dead at the time she was registered.
There are several other cats who have been registered with professional bodies by humans determined to expose slack checking of credentials, though one cannot leave the topic without an honourable mention of another registered hypnotherapist. Zoe die Katze is German for 'Zoe the Cat' but this did not stop Dr. Zoe D. Katze, Ph.D., C.Ht., DAPA from being a member in good standing with The American Association of Professional Hypnotherapists.
Zoe also obtained certification by the National Guild of Hypnotists, the American Board of Hypnotherapy, and the International Medical & Dental Hypnotherapy Association. Her consultant's role at Tacayllaermi School was never questioned, though spelling the school's name backwards might explain why it is hard to locate in the real world.
For the full story of Zoe's professional life, see here.
As Zoe's human the (real) Doctor Eichel remarked; in the world of credentials, money talks or on occasion, it meows!