Midge - the racing cat
May 2009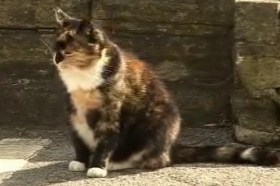 Midge is a 12-year-old cat who lives with Martin Humphrey in Shipley, West Yorkshire. She is like any other cat, but for one thing. Midge loves running, and not just short sprints across the garden. Midge loves to race, and she is very competitive.
Martin discovered Midge's racing potential one morning when he was coming back from the shops and, not having much to carry, he decided to jog home. Midge accompanies Martin most days, so she was trotting alongside. But as soon as Martin accelerated, she did too. When Martin tried to overtake her, she sprinted even faster. There was no way she would let Martin get in front - with the spirit of a true champion, she had decided that she had to win.
As Martin discovered, that day was no fluke. Midge really loves racing and is a true competitor. Now Martin and Midge race each other most days, and most days Midge wins.
Martin admits that he is fascinated by Midge's fondness for running. He decided to make a short movie showing a face-off between himself and Midge with the pair racing down the streets of Shipley, which you can see here.
Can Midge become an international star? Time will show because Martin decided to take his film to Cannes Film Festival in hope that it will catch the eye of a film director. He believes that Midge's story could be the basis of a great movie for children. But whatever the outcome of Martin's visit to Cannes, he and Midge will probably be seen sprinting along the streets of Shipley for years to come.