'You dirty rat!' Constable Tizer v. the rat pack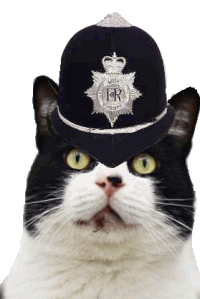 Cats have been recruited into numerous positions in the past, but a constable, even if only honorary? Yet meet Constable Tizer, a 13-year-old Tom who patrols the beat on his north London Railway Police station. Tizer was adopted by Inspector Roy Sloane who was getting ratted out at his police station. Rodents were overrunning the building, and a very special squad member was needed to get things back under control.
Enter Tizer, recruited from the north London cat shelter, where had had recently arrived after his previous human died. He was quickly adopted by British Transport Police as Chief Mouser Pc. Needless to say, Tizer has been quick to show that he is the man, er, cat, for the job. He can regularly be seen on the beat every day at King's Cross railway police station, checking every nook and cranny for rodent vandals. When not on patrol, he can be found in his office which he shares with Insp Sloane.
Indeed, as the Inspector Sloane can testify, soon after Constable Tizer arrived at the station, the long battle with rodents was over. Before Tizer's arrival, the station was infested with mice despite frequent visits from the pest control people.
Tizer is also a people cat and has quickly won the hearts of all members of the station. As much as he takes care of the rodents, he also takes care of his people, making sure that they are relaxed and in a good mood. As all members of the police station are ready to point out, morale is so much better now that everyone knows Const. Tizer is on the job.