Cat who enjoys a daily swim with the lads.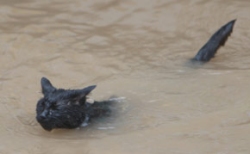 October 2009
A black cat which became an unofficial member of the Changjiang River Winter Swimming Club in Chongqing, impresses the socks off the official members by swimming at least 50 meters every day in the cold, wide river. The cat has no name, so we will call her Quihei de (Very Black). She spends most of her time on a boat (which she has made her adopted home) owned by a Club member.
Quihei de's swimming career started one afternoon when one of club members accidentally knocked the cat off the boat into the river while he was diving into the water. Quihei de - who at that time was only about 2 months old - looked terrified, but she swam furiously to get close to the boat and was rescued by the team.
But this first experience did not put her off at all; rather the opposite. After that day for the next few days the members would take her to the river and swim with her making sure she was safe. After about 10 days, Quihei de was confident enough to swim by herself and has developed a real liking for it.
Quihei de is older now but her habit of daily swim is as strong as ever. At four o'clock each day she can be seen in the river taking her swim. After the swim, she retires on to the sofa inside the boat, washes herself dry and goes for a deserved snooze.
This story was originally reported by the Chongqing Business Daily newspaper.