Obesity - one cat's story
January 2013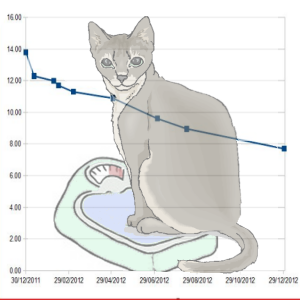 A pair of cats being left in a box at the SPCA is hardly a story one might expect to hit the headlines. Yet in December 2011 a cat, now named Tiny, hit the news in a big way. That's because 'Tiny' was no normal cat - in fact Tiny was large enough to make an impact on anything he hit, including the news.
The SPCA in question is in Fredericton, capital of New Brunswick in Canada. That winter's day staff found themselves confronting a cat fatter than any domestic cat should be. An average pet cat is around 4.5 kg in weight. Tiny was a massive 13.8 kg (30.2 pounds) - or three times heavier than that. So stunned were staff by this feine monstrosity that it took a few moments to realize that there were in fact two cats in the box. The other, later named Rapunzel, was of normal size. Tucked underneath the massive body of Tiny, this cat was probably quite relieved when the box was finally opened.
Tiny was definitely the largest cat ever seen at the Fredericton SPCA, and possibly on the eastern seaboard of Canada altogether. When checked by the vet, it turned out the despite his excess kilos, Tiny could be was pronounced healthy - for now. However, that sort of weight creates huge long-term health risks for a cat. Diabetes, arthritis, liver and kidney problems were imminent in Tiny's future, so something urgent had to be done to reduce his weight.
The vet recommended that Tiny be put on a low-calorie high-protein diet, and a flab-fighting regime of exercise should be instituted to gradually lower his weight. This weight-reduction program was a challenge not just for Tiny, but also for Fredericton SPCA. The specialist diet would cost the institution $4-5 a day, and the local SPCA's finances were already stretched to breaking point.
However, they did have one huge asset. For all his chunky appearance, Tiny is a cat with bags of charisma. So when the Fredericton SPCA launched a weight-loss challenge fundraiser to pay for his food, Tiny became an overnight Facebook star. Donations, well, one might say they 'purred' in. Tiny has not only paid for his keep, but to date has raised about $10 000 for the shelter; money which is used to help other animals with special needs.
Tiny's weight-loss campaign attracted a special volunteer - veterinary surgeon Dr. Nicole Jewett of Valley Veterinary Hospital. She offered to supervise Tiny progress during the challenge. In the first ten days Tiny lost three pounds (1.36 kg). This - rather substantial - early weight loss was partly due to the fact Tiny was less than impressed with his new diet and turned his nose up at the food he was first offered.
So challenge number two was to find lean, nutritious food that Tiny actually wanted to eat. Once this was found, Tiny actually bounced back a bit from his initial weight drop. After that, fans logging on to Tiny's Facebook page commented that weight-loss had stalled for the next couple of weeks.
But by the the first week of February 2012 Tiny had started to make progress. He now tipped the scales at 26 pounds and 6 oz (12 kg), which meant that he lost almost four pounds since his arrival at the SPCA. Valentine's day saw Tiny proudly sporting an even leaner figure of 25 pounds and 13 oz (11.7 kg). Once he had hit his stride, there was no stopping Tiny. He dropped another full pound over the next month or so. The middle of March, and Tiny weighed in at 24 pounds and 13 oz (11.3 kg). As his weight went down Tiny also started to exercise more. His play sessions got longer and longer.
Then in April, the campaign for a tiny Tiny suffered a setback. Tiny suffered a tooth infection and gum ulcer. He was put on steroids which certainly did not help his weight loss. But from the middle of May, his weight began to go down again. By July he was 21 pounds and 3 ounces (9.61 kg). So his first six months in Fredericton gave Tiny a 9lbs reduction in weight. This was an impressive 30% of his body mass - and the reduction continued. By August Tiny's weight was approaching the 20 pound barrier. Now Tiny has entered 2013 at just over 17 pounds (7.7 kg). He is literally almost half the cat he used to be - and his carers couldn't be happier about it.
Tiny could have lost more weight faster, but this was not the intention - a cat on a crash diet can suffer very harmful side effects, so the goal was always to bring his weight down gradually. Unlike the majority of human dieters, Tiny hit his weight-loss targets in his first year. Let's hope that Tiny will continue successfully with his weight challenge in the next few months, and we will check on his progress at the end of 2013.
You can see Tiny on this video below: