About Wakanda
When I first saw a LaPerm 3 years ago I decided I really wanted to breed this delightful cat. I had planned on having just the one and in July 2004 Quincunx Loopylocks Lulu joined our household.
I started to show her and thought one was not enough so in January 2005 Ballego Izzabella Blue came to live with us. My aim now is to progress my family with the girls that stayed from their litters in March 2006.
Based in Wellingborough, Northamptonshire our home is full of characters, dogs included. Our girls never have more than 1 litter every 15 -18 months and never more than 3 litters in their lifetime, they are pets first and show/breeding cats second.
We currently have, in age order:
Quincunx Loopylocks Lulu AKA Oolah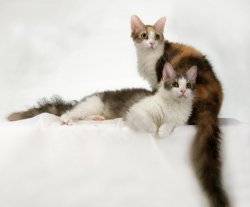 Lulu (right) our 3 year old foundation LaPerm girl who was a complete tomboy as kitten. As she has matured she has become very regal in her ways, always sitting on the highest point of the activity centres, ejecting dogs from their baskets, choosing where she will sit and refusing to move. Lu sleeps at the end of our bed each night keeping a watchful eye on both her parents and pet siblings; any movement will have her standing on your chest cooing, paddling for attention or thrusting her face against yours - after all she is a princess who deserves attention. Lu also has her own food preferences, some say she is spoilt but we prefer to say she has a delicate palate and only Gourmet Pearls (with gravy) will do. Having a year off and will have babies next year.
Ballego Izzabella Blue AKA Baby G
| | |
| --- | --- |
| | Izzy is a scrumptious 2 1/2 year old LaPerm girl who is her mummy's baby. She is the most laid back cat in our house, full of delightful naughtiness mixed with an extremely loving nature. Along with Ratious she sleeps with me most nights liking to be fully under the quilt, something she is often seen to do at shows and not due to nervousness she just likes being under a blanket. Out of all our brood she has largest appetite and only has to hear a bowl rattle to appear and then she eats for England - beating the Devon's by a mile. Having a year off and will have babies next year. |
Wakanda Nitika
| | |
| --- | --- |
| | One of our first Wakanda LaPerms, born March 2006. Nitika is one of Lulu's beautiful kittens and celebrated her first birthday on 24 March, she is a Blue, Silver Shaded and White longhair LaPerm. She is also known as 'Little Miss Bugger Pants' a name she was given at 3 weeks of age when she started to show her natural talent for naughtiness. She was the first kitten to escape from her birthing pen, the first to climb out of the kitten play-pen and the first do all things naughty. She is a total sweetie and loves to snuggle up with the dogs. She will be going to stud in May. |
Wakanda Ayashe- AKA Asheya I see Yer
| | |
| --- | --- |
| | One of our first Wakanda LaPerms, born March 2006. Ayashe is one of Izzy's beautiful kittens and is a 1 year old Blue Smoke longhair LaPerm. She is also known as the enchantress as she has a quality about her that just bewitches you. She loves to talk and has a delightful trill that she uses to demonstrate her happiness. Like all Wakanda kittens she adores the dogs and often seen lying with them or cooing to get their attention. We are currently waiting to see if she is pregnant. |
Wakanda Uzumati - AKA Ted
| | |
| --- | --- |
| | Another of the first Wakanda LaPerms, born March 2006. Ted is one of Izzy's beautiful kittens and is coming up to his first birthday; he is a Blue Silver Shaded longhair LaPerm. He has been know as Ted since he was born as he looked like a little teddy bear. He is an adorable neutered boy who Martin fell in love with when he was a few weeks old. He is snugly boy who is always purring and ready to be cuddled. He is possibly one of the most laid back kittens ever! |
Wakanda Miakoda - AKA Miakoda Coming At Yer
| | |
| --- | --- |
| | Another of the first Wakanda LaPerms, born March 2006. Miakoda - Coming At Yer is one of Izzy's beautiful kittens and is also almost 1 year old; she is a Blue Silver Tabby longhair LaPerm. She is a complete poppet, although like her siblings never far from trouble. She is know as the 'lick, lick, Bite' kitten as she regularly pretends to be cleaning one of her siblings or the dogs before biting them when your back is turned. She recently launched a mission to bite Ayashe's whiskers off which had us confused as to where they had gone, careful monitoring soon revealed the culprit. She also has a fetish for biting the dogs paws! |
Wakanda Kachina - AKA Whinge Bucket
| | |
| --- | --- |
| | Another of the first Wakanda LaPerms, born March 2006. Kachina is one of Izzy's beautiful kittens and will be a year old on 24 March; she is a Blue Ticked Tabby shorthair LaPerm. She is know as Whinge Bucket (pronounced Bouquet) as she is always moaning about something; she moans if you talk to her and if you don't, if you pick her up and if you don't, in fact seldom does she not have whinge about something. Having said that she is always very happy in her moaning. |
---
Wakanda's website