National Cat Club show at Olympia - 2006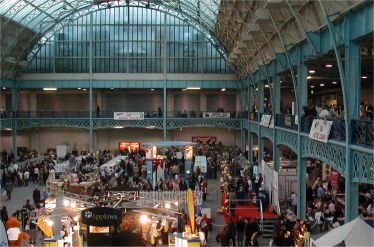 This year's National Cat Club show at Olympia carried on the tradition of cat shows in the capital; a tradition which was established in 1887 and has carried on annually ever since.
London's Olympia as a venue has its drawbacks. Car parking cost about £25 for the day, and with the cost of about £30 for actually exhibiting a cat, plus food and travel, most exhibitors were probably about £100 down by the end of the day. That said, those who did make the journey seemed to find that it had been worthwhile, not least because the Cat Club show at Olympia always attracts droves of non-specialists.
| | |
| --- | --- |
| Papagena Jollie Fille, a Burmese entry, submits to the attention of judge and steward. | Denillanne Alecxa, a female adult Russian blue exhibited by Mr & Mrs T Curtis. Notice the green eyes and wonderful texture of fur for which Russian blues are famous. |
These visitors come for a variety of motives. One couple we interviewed had come to see the different breeds available before choosing a pet. Because the upstairs area was free this year, this space was taken up by cat 'ambassadors' for their breeds, whose owners were prepared to talk enthusiastically and at length about what made their cats special.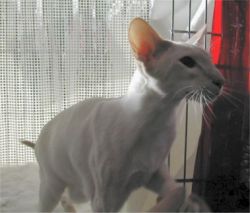 Katheryn Walsh's Adfuran Misterdazzler, a 2.5 year old fawn point Siamese which seemed to enjoy the show as much as any human. He's 'a mischeivous imp' according to his owner, and an excellent example of some of the new variations of the traditional Siamese breed.
For the amateur cat fan, the calmness of the cats on display was remarkable. The average domestic moggy will go spare even when taken a mile down the road to the vet. Yet these feline aristocrats sat calmly, allowing themselves to be examined by judges and stewards, and patiently endured the attentions of the public, many of whom paid no attention to the signs on the cages asking that the cats should not be touched.
Star temperment. This brown tortoiseshell kitten, Irrep Amondi, exhibited by Mr S. McConnell, was as interested in the spectators as they were in her.
Visitors also came to take advantage of a host of stands selling books, cat cages and scratching posts, and displays by cat charities and Royal Canin (the sponsors of this year's event). The BBC's Blue Peter was much in evidence, as was a huge furry Garfield who wandered the display area posing for photos with attendees.
There were some 600 cats on display; a significantly lower number than in many previous events, and as is sometimes the case at these events, there were no entries at all for some classes. The cost of exhibiting mentioned above may have been one factor. But it probably did not help that the Supreme (another major cat show event) was only a fortnight earlier, and while the National used to be the last event of the year, this year's calendar has been a lot more crowded, with another show scheduled for the 16th of December.

It's show time! The judging gets under way.
The National Cat of the Year award was won by Danzante Foryoureyesonly, who also won the Best British exhibit award. This wonderful little cat is a Manx; a breed which is nowadays supported in this country by only a few dozen breeders - the result perhaps of the numberous exotic breeds which are now available. The list of prizewinners - including the storming performance by Moon Beam in the non pedigree section - is given below.
Pedigree

| | |
| --- | --- |
| National Cat of the Year | Danzante Foryoureyesonly |
| Best Longhair Exhibit | Mavouneen So Scrumptious |
| Best Semi Longhair Exhibit | PR Demilune Lightand Bitter |
| Best British Exhibit | Danzante Foryoureyesonly |
| Best Foreign Exhibit | CH BambinoPrincipal Boy |
| Best Burmese Exhibit | Rossikhan JohnThomas |
| Best Oriental Exhibit | GRCH Edingorse Charlemagne |
| Best Siamese Exhibit | IMP GRCH Hellfire Castaspell |

Non Pedigree

| | |
| --- | --- |
| Best Non Pedigree Exhibit | Moon Beam |
| Best Longhair Pet Cat | Charlie |
| Best Shorthair Pet Cat | Duke |
| Best Semi Longhair Pet Cat | Billy Bean |
| Best Half Pedigree Pet Cat | Mascara |
| Best Pet Kitten | Moon Beam |
| Blue Cross Centenary Trophy | Moon Beam |


Wakanda Uzumati, Penni Cragg's LaPerm; a 'snuggly and mischievous' cat was at the show as an ambassador for the breed, but two relatives - Wakanda Nitika and Wakanda Ayshe were entered for exhibition downstairs.