Air Travel
("There's a cat in the window; and he's wishing for some wings to take a ride ... " Petula Clarke 1967)

Taking a pet in a plane is sometimes possible, though hardly easy. However, it does require thorough preption beforehand, and missing out any of these preptions might leave you with your cat stranded at the airport, arguing fruitlessly with officialdom.
Many airlines will now allow you to transport your cat and most of their regulations are similar, but some airlines have specific rules of their own. Due to the prevailing security situation, these rules are liable to sudden change with very little notice, so it is very important that you check with your chosen airline before finalizing arrangements, and re-check just before you travel. Most airlines want animals to be over a specific age before they will carry them. For cats, that age is normally 10 weeks.
Transport options
There are three possible options for transporting cats on a plane:
1. In the cabin: In certain cases, pets may travel with you in the cabin. This option is normally available for short journeys. There is normally a restriction on the weight and size of the container and the number of pets you bring on board. Normally, the container needs to be small enough to fit under the seat and cat+carrier should not weigh more than 9 pounds. Not all airlines which transport animals allow pets in the cabin. Make sure you check with the specific airline.
2. In the hold: If the pet is not allowed in the cabin, it may be able to travel in the baggage hold.
3. As cargo: This normally applies to pets travelling unaccompanied. Reservations for unaccompanied pets need to be made at least 3 days before the flight. Details of the person who will collect your pet at its final destination will be required, as the airline will want to contact them before the booking is confirmed. The airline will also require the measurements and the weight of the carrier+cat prior to confirming the reservation.
Documentation
- valid pet passport
- vet certification of health issued not more than 48 hours prior the journey. Remember that now it is compulsory for the animal to be treated for ticks and worms 24-48 hours prior to arrival in the new destination.
Make sure you also have photocopies of the documents since the copies of pet passport/health certificate must be attached to the kennel. Bring the original and the copies to check-in.
- it is strongly advisable to check with the embassy of the country where you are going to ensure that you are completely up to date with that country's regulations for bringing in an animal.
- although it is not essential, it is strongly recommended that you have pet travel insurance.
Cat carriers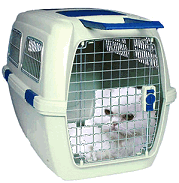 Because your cat will undoubtedly be stressed during the journey, the airlines quite rightly insist that the cat should be able to travel in a degree of comfort which is beyond the dreams of most tourist class passengers.
Most cat carriers designed for everyday use are not suitable for cats on a plane. These carriers have to be large enough for the cat to stand up with her head raised without touching the roof of the container. There must be enough space for the cat to turn and lie down comfortably. When you buy your carrier make sure it is airline approved.
The floor or the cerrier has to be fitted with absorbent material, such as a blanket.
The carrier should be made of rigid plastic with a built-in metal door. (Wooden carriers and carriers with plastic doors are not permitted. Fibreboard or wiremesh containers are also not suitable for air transport)
The door lock on kennel must be secure, but not padlocked. Door hinges and locking pins must extend beyond the horizontal extrusions above and below the opening by at least 1.6 cm (5/8 inch).
The carrier must have two attached dishes or a single dish with two compartments for food and water, both dishes accessible without opening the carrier's door.
A tag with the name, address and contact telephone number of the person responsible for the animal has to be attached to the carrier. There must also be at least one "live animal" sticker on the side and two "this way up" arrow stickers.
Secure a label to the side of the container stating the animal's name and feeding instructions.
If the carrier has wheels, they will have to be removed.
It is a good idea to introduce your cat to her 'first class compartment' for a few days before travelling. That way the cat will be in a relatively familiar environment during the journey, and consequently less stressed.
Preparing your cat for travel
It is important that your cat is as relaxed as possible. Over-stressed or injured cats will not be permitted on the plane. Nor do most airlines permit your cat to be tranquillized. Even if tranquillizasion is allowed you must discuss it with your vet, and tranquillize only under professional supervision.
You should not feed the cat for at least 8 hours prior the flight (some airlines recommend an even longer period). You can however give water to up to 4 hours before the flight.
---
The information supplied here is intended as a guideline only. For more complete information please check with your airline.