Transporting your cat by air - how to do it safely.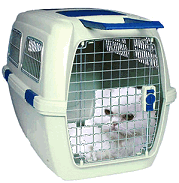 In 2022 a cat appropriately called Rowdy made headlines when she escaped from her cat carrier at Boston Airport. Rowdy's human was traveling from Germany to the USA and due to other complications prior to the flight, Rowdy was unable to travel in the cabin. Instead Rowdy ended up traveling in the cargo hold - something with which she evidently did not agree.
When she was unloaded at Boston airport, Rowdy's carrier door somehow came open and the cat took her chance and bolted out of sight. With a fugitive cat at large on the premises, the airport enlisted the help of a local animal shelter to trap the runaway. For the next two weeks the game of, er ...cat and mouse continued, with Rowdy successfully evading her would-be captors. In part this was because while everyone focused on the cargo area, Rowdy had found her way to the third floor which was closed for renovations. There she was spotted by one of the construction workers and to the relief of everyone involved, she was finally trapped. Apparently none the worse after weeks of fending for herself, Rowdy was taken to the local cat shelter and eventually reunited with her human family.
This is a happy ending to the story but it does raise some questions for those uneasy about traveling with their pets, especially if the airline insists on transporting those pets in cargo compartments. Fortunately since 2000 there has been an effort to make pet travel safer in the USA. In 2000 the US Department of Transport (DOT) passed a law which required that all US airlines submit monthly as well as end of the year reports on the death, loss or injury of animals being transported by air. Before then this information was buried in the airlines' "mishandled baggage" report filed with the DOT — if it was acknowledged at all. There were other changes introduced, including times of the year when animals are not allowed to be transported at all - these being very hot summer months and cold winter ones.
The new legislation also stipulates that airlines be required to improve training for employees who handle animals (for example not letting cages such as Rowdy's get open) and improve cargo holds to make them safer for animals. Still air travel remains a lot more hazardous for pets than it is for humans.
According to the DOT, in the period between 2010-2020 over 250 animals died while being transported by air. Another 170 animals sustained injury and 20 animals were simply lost in transit. A review of the incidents documented after the time that airlines began filing the mandatory reports reveals that on occasion, dogs and cats have been left sitting on the tarmac for hours or even days. Their carriers have been dropped and run over by forklifts. Animals were abandoned in dangerous cargo areas, put on the wrong flight or no flight at all, or escaped - never to be seen again.
Apart from the risk of physical injury, being transported in the cargo compartment of a plane is very stressful for cats. For a start, the cargo of the plane is very noisy. The animals are subjected to large swings in temperature. Changes in air pressure can also be dangerous for small animals. And of course, there are no routine checks done on animals during the flight. Even transport to and from the plane is not without risks as Rowdy's story clearly shows. All this adds to the stress of a cat taken from its familiar home environment and separated from its humans. No wonder Rowdy ran for it when she got the chance.
So are there any alternatives? Yes, especially for small animals like cats. Many airlines allow such animals to be flown in the cabin with their people as long as they are in an appropriate carry bag. There are other options such as 'Pet Airways' which uses designated planes designed to just transport pets. Animals travel in specially modified cabins, not cargo and are continuously monitored during the flight. These flights were halted during Covid19 but Pet Airways was hoping to resume the service sometime in 2022.
If money is not an issue there are some luxury cruise ships for pets. For example Cunard's Queen Mary 2. This posh ocean liner which travels between New York and Southampton in the UK claims to provide the best service for their four-legged passengers. According to pettravel.com Cunard's "Pets on Deck" program includes a range of pet-friendly services and amenities such as fresh-baked biscuits, walks on the deck, a choice of beds and blankets, and even a coat with a QM2 logo. As part of the enhanced program, traveling dogs and cats also receive a complimentary gift pack featuring a frisbee, name tag, food dish and scoop, a complimentary portrait with the pet's humans, a crossing certificate and 'personalized cruise card.'
Most pets still suffer from separation anxiety. No matter how luxurious the facilities, they would prefer the company of a known human to mitigate the stress of travel. And if the animal does get loose, it has a much better chance of being immediately retrieved if its human is right there on hand.
Safe Air Travel for Animals Act
Rowdy the cat lives up to her name and evades airport staff for more than 2 weeks
---
The information supplied here is intended as a guideline only.